Idar-Oberstein | Engelland
+++ Due to Corona, the event has unfortunately been cancelled or postponed indefinitely. We ask for your understanding. +++
There are times when angels are especially welcome. Experience the feeling of "angel" in very different ways: hopeful, sad, gentle, curious, humorous, seeking protection - yet always sublime.
Theatre ANU shows five different angel performances and installations in the form of station theatre:
"The ladder to heaven" - a fire installation made of burning shoes climbing up a ladder into the sky. A few metres away, a farmer has set up his market stall. He sells so-called "angel potatoes". As a highlight, he presents his angel.
The famous Rilke poem "Engellieder" is the basis for a pas de deux of a couple, in the tension between freedom and attachment.
The audience can experience the performance as dance and shadow play. A screen shows projections of psychedelic images created live by a dancing being with wings. And suddenly a winged being appears on the roof of a house. With its wings spread wide, it watches over the city.
Fire, light, shadow, dance, video projection, storytelling. Take an hour of the angels' time!
And when you come back, you can say, "Today I met an angel."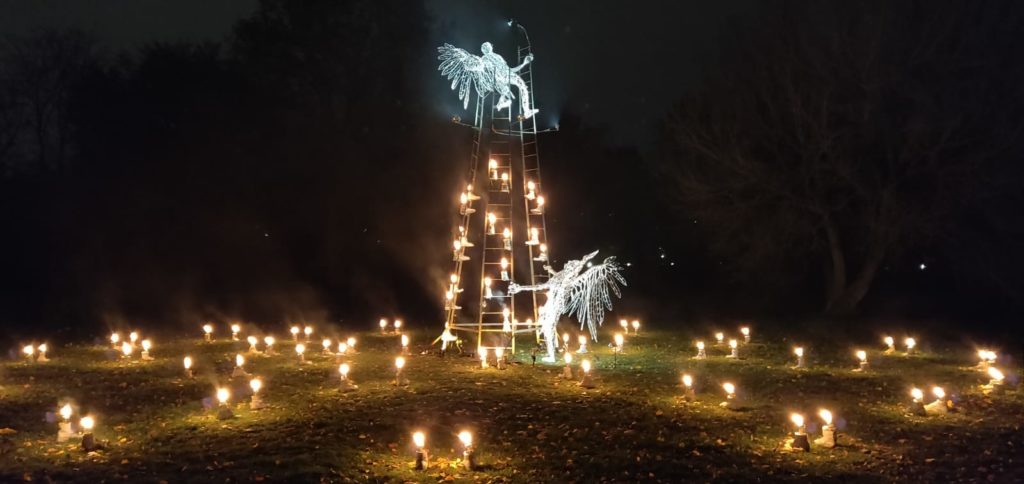 Photo: Johannes Gärtner
Tickets
Theatre ANU from Berlin is already well known for its sensual and poetic worlds. Now, in November, the company will present its programme ZEIT DER ENGEL oder ENGELLAND (Time of the Angels or Angel Land), which was created especially for Idar-Oberstein.

Venue
Pedestrian zone Idar-Oberstein.
Entrance: Auf der Idar square / Modepark Röther
Playing times
Friday: 18:00 / 18:15 / 18:30 / 18:45 / 19:00 / 19:15
Saturday: 17:00 / 17:15 / 17:30 / 17:45 / 18:00 / 18:15
Tickets and further info you will find here.
Compliance with the Corona Rules
A valid hygiene concept is available and has been approved (valid for the current regulations of Rhineland-Palatinate.
Distance requirement and hygiene rules
The event can only be attended if a mouth/nose covering is worn. However, it is only necessary to wear it if the minimum distance (1.5m) to other visitors cannot be maintained unexpectedly during the event.
Data protection in the Corona Summer
Due to the necessary chain of infection tracing required by the authorities, we are obliged to document the names, addresses and telephone numbers of the visitors. These contact details will be deleted 4 weeks after the event.
Map