SHEHERAZADE in ZOOM
Narration 2.0 | follow us into a world of 1001 nights

Theater ANU goes online and therefor takes its poetic narrations into the world wide web.
On behalf of Landesmuseum Württemberg ANU created its first online show: a marvelous journey into Sheherazades world.
The berlin based ensemble uses the platform "zoom" which is well knows as a tool from the homeoffice world. But other than so far known the creative minds behind the scenes of ANU play with the technical potential of this provider and create art: video arrangements, interaction with the audience and virtual effects are just some of the tools used to create a fantastic  world.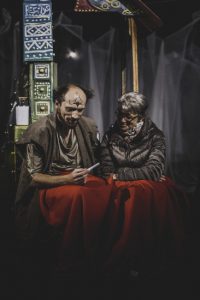 This online-experience carries away young and old equally into the fantastic world of Sheherazade and her city of storytellers.
On her stroll through the city she meets bizarre characters and great narrators.
The city is build on narrations, dancing performances, acting, and audio sequences.
Documentary parts and live performances accompany each other to carry you away into a worls of 1001 nights.
SHEHERAZADE at ZOOM is far more than the common streaming version of a staging. It is something new. Something that fits into the actual situation and picks you up wherever you are.
How does a live event with zoom work?
The number of participants is limited with 100 people per night.
Registration is possible by sending a mail or by buying a ticket minimum one day before the event.
After the registration you will get all further information by mail.
Staging time : 60-70 min
A further online-offer matching "SHEHERAZADE" is the visual improved audio book "YUNUS"

Thanks to the cooperation with Landesmuseum Württemberg , theater ANU created a visual aproved audio book for the whole family.
Bille Behr therefore collected all kinds of visual material from our archive and assembled a 45 minute film leading you through the audiobook.
Yunus and his friends got their voice from the amazing actor Rainer Wöss.
Accompany Yunus over 5,000 km on his adventure journey through the arabic world. We start in the Spanish city of Ronda. His search for the "city of storytellers" leads him via Malaga, Marrakech towards Aleppo. We invite you to a journey into a wondrous world that follows the idea of making peace with stories!
With SHEHERAZADE in ZOOM, and the YUNUS the audio book ANU creates a virtual theater world that offers a different view of arabic culture – an important signal in a world where images of terror and war are becoming increasingly dominant