Perpetuum mobile as a commission for Bad Karlshafen 2017
Commissioned productions are always set in relation to their specific environment. Reality can be perceived and reassessed from a different perspective. This is also the case in the latest production, which was commissioned by the city of Bad Karlshafen GmbH in cooperation with the Kultursommer Nordhessen: Landgraf Carl, the founder of today's Bad Karlshafen, had a strong interest for, among other things, natural sciences and, above all, for mechanics. In 1716, he called Johann Bessler to his court, who developed a wheel that, once set into motion, was supposed to keep on turning indefinetely. Bessler constructed several designs of his invention. They were inspected and successfully tested over several weeks – he could never be proven a fraud. Nevertheless, the voices of skeptics and jealousies never stopped! In the end, he destroyed his invention himself – for fear it could be stolen from him.
Sponsored by Landgraf Carl, he kept on living in Bad Karlshafen. There he is said to have continued his research on perpetual motion machines and other apparatuses until his death. His house is still located right next to the town hall at the harbor basin, which is currently being refurbished for shipping from the Weser. The rest is up to imagination…
At six venues, old and new stories of the peretuum mobile intertwine. The futurist Paul Scheerbart visualizes his "world of the perpeh" onto facades by means of a crazy projection apparatus. A lecture performance combines a virtuoso game of light and shadow, conjuring up the madness of a machine that is spinning ever faster and faster. In an impressive experiment, visitors can admire the so-called "butterfly effect". Ten books of different sizes are positioned after one another. And when, in the end, a tiny book triggeres a chain reaction and topples a nearly two meter tall book, the madness is palpable. In front of a big cross, "Ms. Mehr" muses on a world without God. She celebrates the multi-machine "Perpetuum mobile". Printers are constantly duplicating shareholding certificates of this new invention, raising the key question: Don't we all want a little bit more?
"Der Brennpunkt", 12 May 2017:
Perpetual Motion Machine. The Energy Revolution in Bad Karlshafen
Capital Studio Berlin
The accompanying exhibition PERPETUUM MOBILE was shown from May to October 2017 in Bad Karlshafen.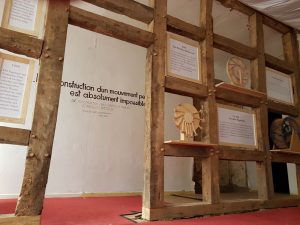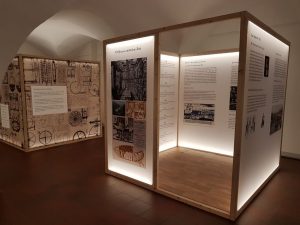 TEAM
Performer
Frau Mehr/Church– Bärbel Aschenberg
The New World /Supermarket– Rebecca Dirler
Mechanicus/Rose Garden – Philipp Gilly
Karl/Construction Site Harbor Basin – Jacek Klinke
Scholar/Antique Book Store – Lorenzo Pennacchietti
Paul Scheerbart/Café – Markus Moiser
Idea und Conception – Theater Anu by Bille & Stefan Behr, Martin Thoms
Direction & Choreography – Bille Behr
Text – Stefan Behr, Paul Scheerbart, Orffyreus
Szenography – Martin Thoms
Technical Direction – Thomas Hanson/Johannes Gärtner
Paper Cuts/Graphical Illustration – Albert Völkl
Kindly supported by Theaterhaus Berlin Mitte. Produktionszentrum für Freies Theater.
Exhibition PERPETTUM MOBILE
Overall Management – Stefan Behr
Collaboration – Harry Oberländer
Illustration – Mathias Stephan
Szenography – Martin Thoms, Albert Völkl, Johannes Gärtner
Speakers – Markus Moieser, Lance Girard, Stefan Behr, Bille Behr
Video Brennpunkt
Camera + Cut – Manja Wolff, wolffilme
The poetic worlds of the Berlin-based theatre ANU have impressed at the "Kultursommer Nordhessen" (cultural summer of Northern Hesse) with productions such as SCHATTENWALD, OVIDS DREAM, THE GREAT JOURNEY, SHEHERAZADE or NACHTMEERFAHRT. With its sensuous productions, the ensemble opens up spaces of experience into which visitors can immerse themselves and be enchanted, even transformed.