Car Theatre DREAMER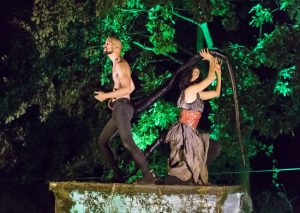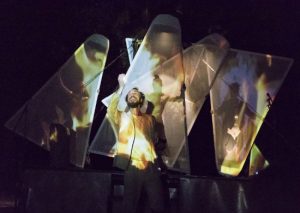 A hybrid of the "own four walls" of the car - with the distance and hygiene rules possible therein - and yet physically being part of a large audience is offered by our production DREAMER. We have converted it so that it can be shown live in car cinema formats. In the midst of the cars, we play on stages and make contact with individual cars. At the same time, everything can be seen on the big screen, the sound comes over the car radio.
DREAMER already works strongly with video projection in the physical performance and a narration that is read and performed in chapters like a diary. Dialogue scenes, modern dance, sound collages are strongly compatible with cinema. The theme is the "wildness of man". The related question of one's own cage is made tangible within one's own four car walls.
More about the content of the production DREAMER here.
Drive-in cinema
The organiser has a drive-in cinema available for the implementation of this concept (alternatively, an open-air stage without cars is also possible).
Stages, screen and live performance
The action takes place next to the main stage on side stages between the parked vehicles. played on mobile elevations. To ensure that everyone can follow the action at all times, everything is transmitted via live stream to the big screen. With this concept, the performers are partly in the middle of the audience while maintaining distance and hygiene conditions. The action is transmitted in parallel to the big screen.
Distance and hygiene regulations
The car as protection for me and others: Maximum two people per car. The distance of 1.5m must be maintained. No catering. No use of a public toilet possible.