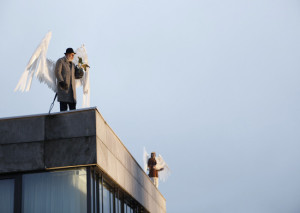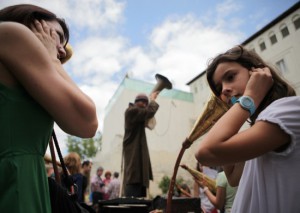 We have created an EDITION 20/21 especially for the Corona winter: ENGEL DER GESCHICHTE uses QR code technology to comply with the distance requirement with ease! More info here.
Angels appear life-size on the roofs and balconies of your city. They have poems, stories and curious angel miracles in their luggage. Here a letter sails down to the people, there a basket with angels' wisdom is let down. On the ground, there are curious angel finds to be seen in shop windows. In another, passers-by can take photos of themselves with angel wings. In the vicinity of the angels, funnel apparatuses are installed in isolated places that let the voices of the angels sound out: Poems or questions to the people.
The angels radiate calm and peacefulness. Trouble and suffering have given way to hope. Angels tell their stories with a gentle smile.
More information about ENGELAND and the big commemoration projects ENGEL über BERLIN or ENGEL über ZECHE ZOLLVEREIN here.
Suddenly they are sitting there,
Their wings spread wide,
High up on balconies and roofs.
Their eyes are on you.
Pausing. Silent dialogue.
Happy moment.
And when you come back,
You can say:
I met an angel today."
Stefan Behr
NOTE Corona
Since the performers appear far above the people in the city/pedestrian zone, there is no need for a decided hygiene concept in our view. The 6 angels appear simultaneously within sight (lines of sight), people will keep moving to want to see all the angels, there is no increased group formation. For an "angel exhibition" we like to use shop windows, which are available to strollers on the ground during the entire play day. For other installations in the pedestrian zone, we recommend setting up information stands at the required 1.5 m distance in the immediate vicinity and assigning a helper if necessary.