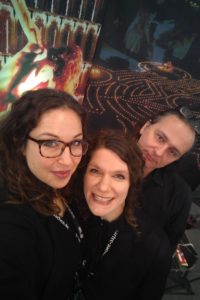 Dear organisers,
We warmly welcome you to this year's International Cultural Exchange 2021, for the first time purely digital and exclusively online! An experiment... not the first in the past Corona year.
We invite you to browse our homepage. Take your time to get to know our works - you can find many of our programme booklets as pdf here below -, immerse yourself in our poetic worlds.
If you would like to talk to us in person, we were available via ZOOM on all three days (18-20 January) from 11 am to 5 pm.
Give us a call:
030 26 39 59 99 (Claudia Küsters, Communication and Event Planning)
0178 501 540 7 (Stefan Behr, Artistic Director)
0177 302 14 64 (Bille Behr, Artistic Director)
At ANU Worlds all our current productions are listed in the main menu, the SpielBAR Corona Time summarises all our corona-compliant productions. We had wonderful Theatre ANU moments last summer despite Corona, we were able to co-curate and design the festival EIN ANDER SOMMER by the Festspiele Bad Hersfeld, the Corona-compliant version of DIE GROSSE REISE was a great success at Tempelhofer Feld Berlin with about 5000 people on 9 evenings of plays.
You can also find all information about our corona events in this brochure:
(Please use the full screen mode).
Download the pdf here:
Theatre ANU_Overview Prospectus corona-compliant 2021
Further programme brochures of our repertoire:
Theatre ANU_The Great Journey  → THE GREAT JOURNEY
Theatre ANU_Ovid's Dream_German   //   Theatre ANU_Ovid's Dream_english → OVIDS DREAM
Theatre ANU_Perpetuum → PERPETUUM
Theatre ANU_Shadow Forest → SHADOW FOREST
Theatre ANU_Sheherazade_Presentation → SHEHERAZADE
The brochure Commissioned Productions:
Theater Anu_Brochure Commissioned Productions → COMMISSIONED PRODUCTIONS
And we would like to draw your attention to the lecture/seminar "Strategic planning in crises for organisers and artists" by Stefan Behr:
Wednesday, 20.01.2021, 12:00 - 13:30
https://www.kulturboerse-freiburg.de/de/ikf-digital/programm/stefan-behr
We wish you an inspiring and successful Kulturbörse! Stay healthy!
Sincerely
Bille & Stefan Behr and the team from Theatre ANU