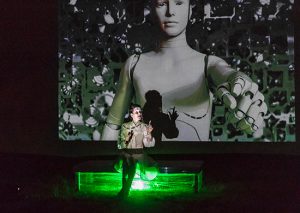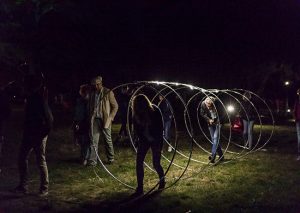 Dear organisers!
Dear organisers,
Were 2020 and 21 now the Corona exceptional summers or the beginning of a new reality that will be with us for years to come? We don't know. We at Theatre ANU have been looking for ways to deal creatively with the crisis since the 1st Lockdown:
Together with the Festspiele Bad Hersfeld, we conceived the festival EIN ANDER SOMMER in 2020 with approx. 170 events. In addition to the corona-compliant adaptation of SHEHERAZADE, two new Theatre ANU productions were created here: YGGDRASIL - Nordic mythology in the field of tension between narrative art and performance - and TO THE STARS! - a staged reading freely adapted from Jules Verne with large-scale projection art ranging from animated film to green screen technology. In Berlin, almost 5,000 visitors saw our production THE GREAT JOURNEY on nine evenings at Tempelhofer Feld, Berlin. And for Idar-Oberstein we created a 2.5 hour theatre walk.
Spiegel online even listed us in the 17 "by far" most beautiful events worldwide.
In 2021, the corona wave continued: goodbye planning security, but we still had a very successful season right into November.
Theatre ANU is known for its "theatre of encounter", we were able to remain true to this character by exploring "closeness despite distance". This was not a matter of course and we are very grateful to be able to continue our work responsibly even in these difficult times!
Our experience shows: The concept of the STATIONENTHEATER can be organised very well with the valid hygiene and attendance rules for hundreds of visitors per evening.
Even though at the moment everything is set on relaxing the existing corona measures, no one can predict today what this summer will look like. For this reason, we continue to offer you the greatest possible security and flexibility with our elaborate hygiene concepts: Should the restrictions be lifted, all productions can of course take place in their original mode.
In addition to the so-called live events, we also took the opportunity at the beginning of the lockdown to move our work to the internet: the ONLINE SHOW for SHEHERAZADE was new territory, an experiment and enabled us to use completely new techniques. The positive feedback encourages us to continue thinking in creative online formats. We are currently setting up a professional streaming studio to create, as they say, hybrid formats of physical live events and online shows.
As you can see, even in times of crisis it is important to bring the poetic into the world!
We at Theater ANU have been working for over fifteen years with "walk-in theatre installations" as a t h i s This is our company's form of staging. This means that the visitors receive individual play stations ("station theatre") either one after the other in small groups or freely selectable in simultaneous play. This structure can be adapted very well to the number of people and the rules of distance and hygiene, thus enabling the performance of corona-compliant events. We continue to refer to the Recommendations for action by the AGV and the R.I.F.E.L.
Our production offers a mixed form of being "in one's own four walls" and yet physically part of a large audience. CAR THEATRE DREAMER.
Even as we joyfully await summer, we are already looking ahead to the dark season: enchant your audience with an installation course by Theater ANU. THE LEGENDS OF MORALAND or the very recent DEM HIMMEL SO NAH unfold their poetic power even without physical performers and are uncomplicated to stage under the Corona hygiene conditions.
Are you curious? Find out more about the respective formats in the menu on the right and contact us! We would like to win you over as a cultural partner also in the second exceptional year 2021 and are at your side as creative theatre professionals for your audience.
Stay healthy and keep your passion for culture!
Bille & Stefan Behr and the team from Theatre ANU