Berlin Tempelhof Airfield | So close to heaven
Illuminated trees  have faces, puddles of water reflect mysteriously shimmering worlds, burning shoes seem to rise into the sky climbing up a ladder.
Theatre ANU takes its visitors onto a journey of light, sound, installations and live performances. A journey to the ultimate questions of our existence; to the beginning and the end. We want you to meet the child you once were, the child who never gave up. Celebrate life with us!
Stories and poems from classical authors such as Ovid, Pythagoras and Rilke and  poetic texts from Stefan Behr the author of theatre ANU merge with music, physical theater, light, video and  installations. Philosophical. Profound. Sensual. Poetic.
Tickets
Prices: 18.- EUR / reduced: 12.- EUR
for visitors up to 12 years the entrance is free (accompanied by adults).
Reduction for students, unemployed and people with disabilities (in case of severe disability with the mark "B" the accompanying person receives free admission).
staging times:
Dezember  16.                    Premiere 6pm
Dezember  17.+18.        open from 6pm – 8:30 pm
Dezember   21.-23.        open from 6pm – 8:30 pm
Dezember  27.-30.         open from 6pm – 8:30 pm
Staging/ Entrance times
The course is open from 18-20.30 each time. There are 2 admission times: 6pm and 7pm, maximum 200 people per admission time. Plan to stay about 60 min to see all the stations.
Location:
Area between "Tempelburger" and "Luftgarten", Main entrance: Columbiadamm.
Box office:
The box office is open from 5:30 pm. You can find it at the main entrance Columbiadamm
Exclusively entrance Columbiadamm!!!
IMPORTANT: Please note that at 5 pm all other entrances to Tempelhofer Feld will be closed! Come directly to the main entrance Columbiadamm!
Arrival by public transport:
U 8 | U-Bhf Leinestraße or Boddinstraße (approx. 15-20 min. to the entrances at Columbiadamm)
BUS 104 | stops Friedhöfe Columbiadamm or Golßener Straße (approx. 1 – 3 min. to the entrances at Columbiadamm)
By car
Via the city highway, exit Tempelhofer Damm Via Tempelhofer Damm and Columbiadamm
Partner:

The project is supported by Neustart Kultur, DTHG and the Federal Government Commissioner for Culture and Media.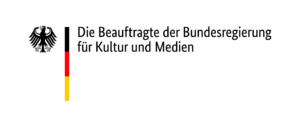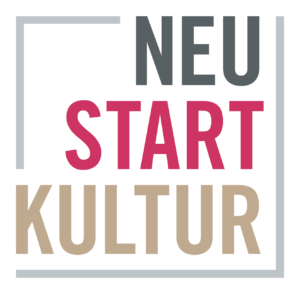 Rain / Snow / Storm
DEM HIMMEL SO NAH will also take place in light rain or snow (except severe weather warning, storm etc.). We recommend warm and sturdy shoes and weatherproof clothing (rainwear). We ask you to refrain from using umbrellas. There are not always paved paths. Unfortunately, this means that the production can only be experienced with limited accessibility.
Should the performance have to be cancelled due to weather conditions within the first 45 minutes after admission (see ticket for admission times), the ticket is valid for another performance of DEM HIMMEL SO NAH.