Berlin | Inkognito
This night will be YOUR adventure.
INKOGNITO – a sensual, bacchanalian masked ball.
When we give you a mask for one night: Who will you be? Will you be different, will you feel free being "incognito"? What will you do with this new freedom?
A mysterious jester has invited you as his guest to establish a new kingdom.
A kingdom that only lasts one night. it excists on such short notice that there will be no time to pass laws and standards. This one night there will be a place outside the world, vivid and (jester)free.
As the master of ceremonies, he will seduce the visitors with masks, games and music. He invites you to devote yourself into the attraction of the moment. Shimmering marbles become coveted objects, table phones make u share exciting fantasies with strangers, masked creatures seduce the visitors into their daring games.
Games.Performance. Live music. Masks. Moments. Dance. Memories
An evening to deeply move you and give you memories that will  let you be alive.
This event will take place at the beautiful Ballhaus Berlin. An original Ballhaus from the Golden Twenties: Table-
Telephones, spiral staircase, gallery, huge mirrors and the live music of THE METAFICTION CABARET wait for you!
INKOGNITO is a project of Theater ANU as part of ARS AMATORIA in cooperation with THE METAFICTION CABARET.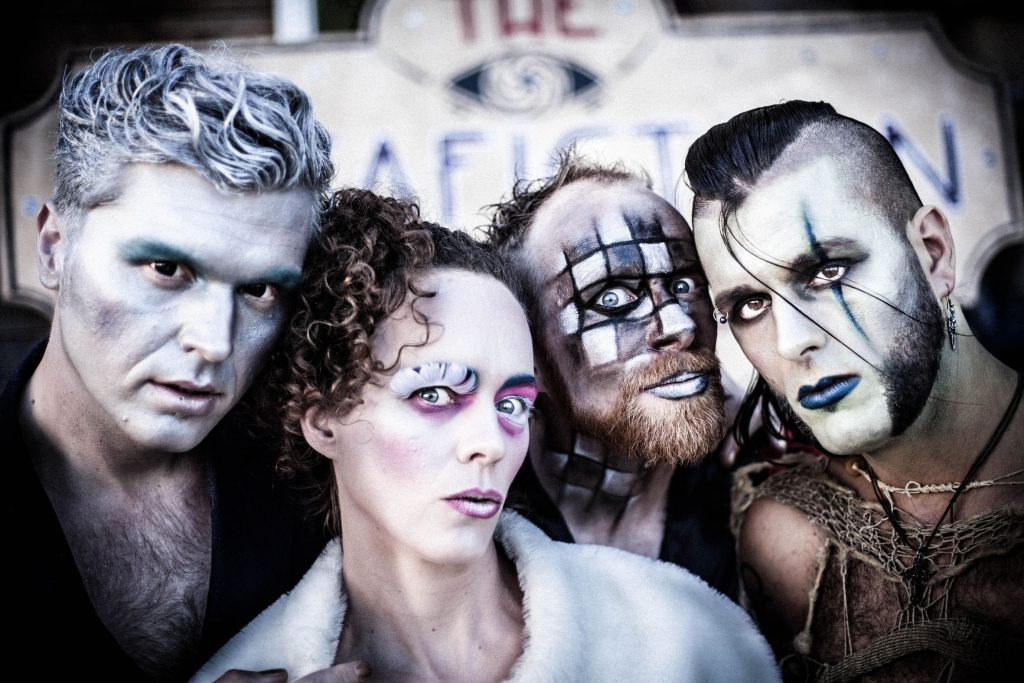 Punk meets Circus
Intoxicating piano sounds. Unbridled beats. Passionate guitar riffs. Abysmal voices that yearn for imperfection. These are the trademarks of THE METAFICTION CABARET, this unique band that was formed in 2013 from the subculture of Berlin's theatre and performance scene.
The front singer Johanna has been associated with Theater ANU for many years as a performer, for INKOGNITO Marc, Kai and Richard are now not only on stage as singers and musicians, but also mix with the audience!
Tickets
Vorverkaufspreis              67.- €
Abendkasse                     67,- €
INKOGNITO ist Teil des OPENING WEEKENDS ArsAmatoria | DAS EROTISCHE FESTIVAL FÜR PAARE 2022
Location
Ballhaus Berlin
Chausseestraße 102, 10115 Berlin
Beginn
Freitag und Samstag Beginn: 21 Uhr (ca. 3h)
Bar und Abendkasse öffnen bereits ab 20 Uhr
Dresscode
Schwarze Kleidung, elegant. Gerne Anzug, Sakko, leichter Mantel, Umhang, Abendkleid… – Fühlen Sie sich schön, fühlen Sie sich sexy, der Ballsaal wartet auf Sie!

Maske
Die Maske ist im Preis inkludiert und gehört nach dem Abend Ihnen. Bitte sehen Sie davon ab, eine eigen Maske mitzubringen.
Alter
Für Besucher*innen ab 21 Jahre.