Yggdrasil
Stories from the Edda
"An ash tree I know, it is called Yggdrasil, a tall tree, showered with shining wet;
from there comes the dew that falls in the valleys, evergreen it stands above the fountain of Urd;
from there come women, many-knowing Norns, from the well that lies beneath the tree."
The Norse mythological world is rich in imagery and language, its characters Odin, Thor and Loki are the playmakers in a story leading from the creation of the world to its downfall, told from the perspective of the seers, the Norns, who hold the threads of fate in their hands.
What happens if they let them go? If the balance of the world of the gods is disturbed? If the connection to the mythical world no longer exists? If the divisions between the worlds of gods, men, of giants and animals, of man and woman get mixed up? Wit, heroism and adventure meet dystopia and apocalypse.
Theater ANU presents a production with three narrators and live music, most of which can also be played on trees.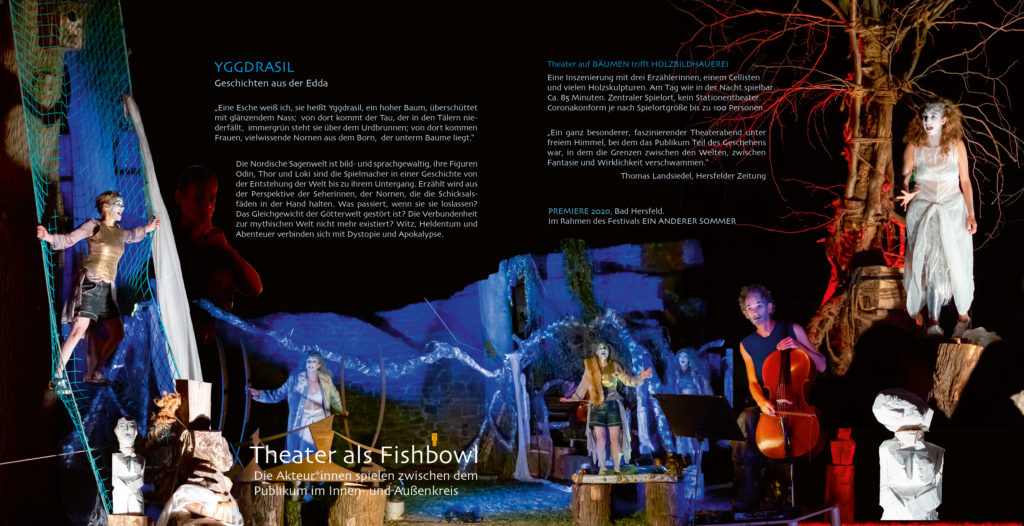 Director + text version: Bille Behr
Text: Translations of the EDDA by Stefan Behr, Neil Gaiman, Felix Genzmer, Wilhelm Jordan, Arnulf Krause, Karl Simrock
Szenography: Martin Thoms
Skulptures: Gernot Ehrsam
Technician: Rebecca Dirler
Featuring:
Skuld / Lokis Children/ Baldurs Death: Bärbel Aschenberg
Werdandi / The Treasures of the Gods / Freyjas Nuptials: Johanna Malchow
Urd / The Builder / The Poets Mead: Kathleen Rappolt
Cello + Composition: Nikolaus Herdieckerhoff
Video: Anne Sturm
Premiere Open Air Theatre Version 2021 THEATERNATUR Festival der Darstellenden Künste, Waldbühne Benneckenstein
Premiere 31.07.2020 as part of the festival
EIN ANDERER SOMMER. Bad Hersfeld – Stadt der Geschichten
Ein Anderer Sommer (A Different Summer)
Stories, plays and music, myths and legends, pictures, reports, lost and found objects and films from the world of yesterday, today and tomorrow.
A cooperation between the Bad Hersfelder Festspiele, Theater ANU, the town of Bad Hersfeld and its residents.
This summer, everything is different. Bad Hersfeld has transformed into a city of stories. Actors, musicians, singers and visual artists play, tell stories, paint and make music in very special places around the town: in the Abbey ruins, in the Abbey Park, in the town church, in the streets and squares, in the Johann Sebastian Bach House, in the buchcafé, in the museums in the Abbey and in the spa gardens.
World literature and reports, dime novels and poetry, works by great composers – from classical to jazz – will be heard and seen, monologues, dialogues, scenes, reports, exhibitions, installations, comedy and tragedies, as well as very private stories and historical events from the town of Bad Hersfeld.
"I am delighted," says Festival Director Joern Hinkel, "that many artists who were actually supposed to be on the big stage with us have spontaneously agreed to take part in our 'different summer'. There will be no Bad Hersfelder Festspiele in 2020. The festival trumpet will not be sounded. The festival staff have joined forces with many cultural workers from the city and the region, and together we will roll up our sleeves and see how we can make the best of the situation."

---
To browse through our digital brochure, please click on the picture below.