CHOCOLATE from the sky
WINTER DREAMS on Tempelhof Airfield
The winter theatre event for the whole family on Tempelhof Airfield.
FREE ENTRANCE
Berlin, 1949. It is Gerdas brothers birthday soon. But during theses difficult days making a birthday cake is not that easy. Nowhere there are eggs. The chickens in the bombed houses of the neighbors have not laid any  for a long time.
The audience joins Gerda on her way through post war Berlin at times of the airlift to find the necessary ingredients for her brothers birthday cake.
A black marketeer finally offers her two eggs in exchange for chocolate. But where to get chocolate now? Luckily the girl hears some rumor that eventually tiny little chocolate bars are falling from the sky near Tempelhof airfield. Whether this is credible?
One night in her dreams she meets an american soldier who builds tiny parachuts with chocolate bars on it. The two make friends.
But was this all just a dream? sometimes dreams come true…
CHOCOLATE FROM THE SKY  tells its story with the means of figure and object theater, combined with acting, singing and narration.
The play is staged as a station theater on Tempelhofer airfield
The audience walks from one place to another. 50 people are allowed on each performance.
This event is recommended  for children from 4 years and older.
The entrance is free due to the help of some truly amazing supporters:
We want to say "Thank you" to : Stiftung Luftbrückendank  und Checkpoint Charlie Stiftung for their financial support.
"Thank you" also to the Rausch chocolate manufacture Berlin! They supported us with 1200 bars of their chocolate!
Furthermore a Project like this would not be possible without the financial help of:  Neustart Kultur, DTHG & Beauftragten der
Bundesregierung für Kultur und Medien.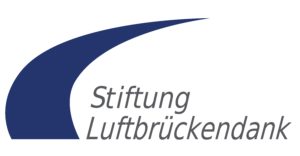 Backround
In 1949, the American pilot Gail Halvorsen got into conversation with Berlin children by chance at the edge of the airport and gave them some sweets. Since there was not enough for everyone, he decided to drop sweets from the plane every time it landed. In this way, he not only delighted the children, but also shaped the image of the American occupiers.
Gail Halvorsen was very connected with the city of Berlin. He passed away this year at the age of 101.
The topic of "war" is coming up again in the lives of children as a result of the conflict between Ukraine and Russia.
Refugees, destruction, lack of energy are no longer abstract concepts. Children are confronted with war both through the media and through contact with Ukrainian
refugee children in schools and daycare centers. We tell a story from Berlin at a time when, on the one hand, the traces of the Second World War were still clearly visible in the city, but, on the other hand, people were once again finding their way in life through inventiveness and social change.